Three Unknown Tea Franchises You Should Try
Tea is the second most consumed beverage in the world, right behind water. Because it is so timeless, the Chinese assert that this traditional beverage has been consumed for close to 4000 years. Despite the myth that the Emperor Shen Nong (2737 BC) once drank hot water that was unintentionally loaded with tea leaves, the earliest actual remains are discovered considerably later. In the tomb of the Han Dynasty Emperor Jing Di, premium leaves and other rare artefacts were found. But it wasn't accepted as a common beverage until much later; up until about 300 CE, it was still thought of as a medical brew.
Although businesses like Chaayos may have established a distinctive market for themselves, this does not lessen the value of the distinctive, lesser-known stores all around us. We'll talk about a few lesser-known but excellent tea chains that give us goodness boosts and help us regain faith in it as the undeniable wonder that it is in today's blog.
Tea Villa
What good is a cup of tea if there isn't a decent narrative to go with it? Like all strange fables, this one began somewhere else. Because they were both tired of pretending to be excited about the event industry, Micky Panjwani and Roopanshi Bhatt first met at an event. They wanted to develop something that would make them happy. The ultimate goal was to improve the world, and it all began with men's favourite beverage, tea.
The main perk at Tea Villa is the range of foreign teas, including European, Mediterranean, Italian, Mexican, and Chinese types, which are imported from the top 100 choices worldwide. Tea Villa is the perfect place to unwind and satisfy your senses because of the minor things like a live kitchen serving freshly cooked cuisine, waffles that are still warm from the oven, and a range of unique coffees.
Tea Villa prides itself on being a family-friendly café that welcomes patrons of all ages, including seniors and those in their golden years as well as school-age children, teenagers, friends, and businesspeople. Even the idea of accepting everyone was inspired by tea; after all, Tea Villa's ambience is permeated by the spirit of Indian families from all generations together to share a cup of "chai."
One of Tea Villa's future objectives is to saturate Mumbai's tea-loving landscape with at least 20 company-owned locations. It is also planned to open 500 outlets across India. In three years, Tea Villa aspires to be at home everywhere. Tea Villa currently has thirty outlets in Mumbai, Surat, Vadodara, Pune, Ahmedabad, Hyderabad, Bangalore, and Delhi. The foreign market has been entered, with intentions for Singapore and Dubai.
Tea Trails
The group of Kavita, Uday, and Ganesh Mathur founded Tea Trails, an initiative of Zone8 Tea World Pvt. Ltd. Tea Trails was not founded on a whim or for emotional reasons. After investing more than two years in research and development to hand-select products that would be appropriate for the Indian market, the first site finally opened in Mumbai in November 2013.
Tea Trails is very well-liked because to its carefully picked assortment of teas, inviting and calm ambiance, helpful and courteous personnel, and desire to offer knowledge about the flavours of customers' choice. A specific expertise is serving gourmet teas from all over the world, including affordable kinds like Lapsang Souchong (Winston Churchill's favourite) and common variations like Darjeeling.
The workshop on tea appreciation is another benefit. The founding team was so passionate about the beverage that they travelled the globe to choose their offers. People congregate in the cafes, which are more like experience hubs, to socialise, chat, work, and savour delectable food and tea.
After recently raising an investment of more than a million, Uday Mathur said that a large-scale expansion strategy is in place, principally centred on the establishment of a franchise network. This business strategy has less assets and a higher ROI. The brand hopes to use the capital for growth and expansion in priority markets, with plans to open 250 shops throughout India. It is estimated that 80 percent of these shops will be franchises and 20 percent will be company-owned.
FiLLi Cafe©: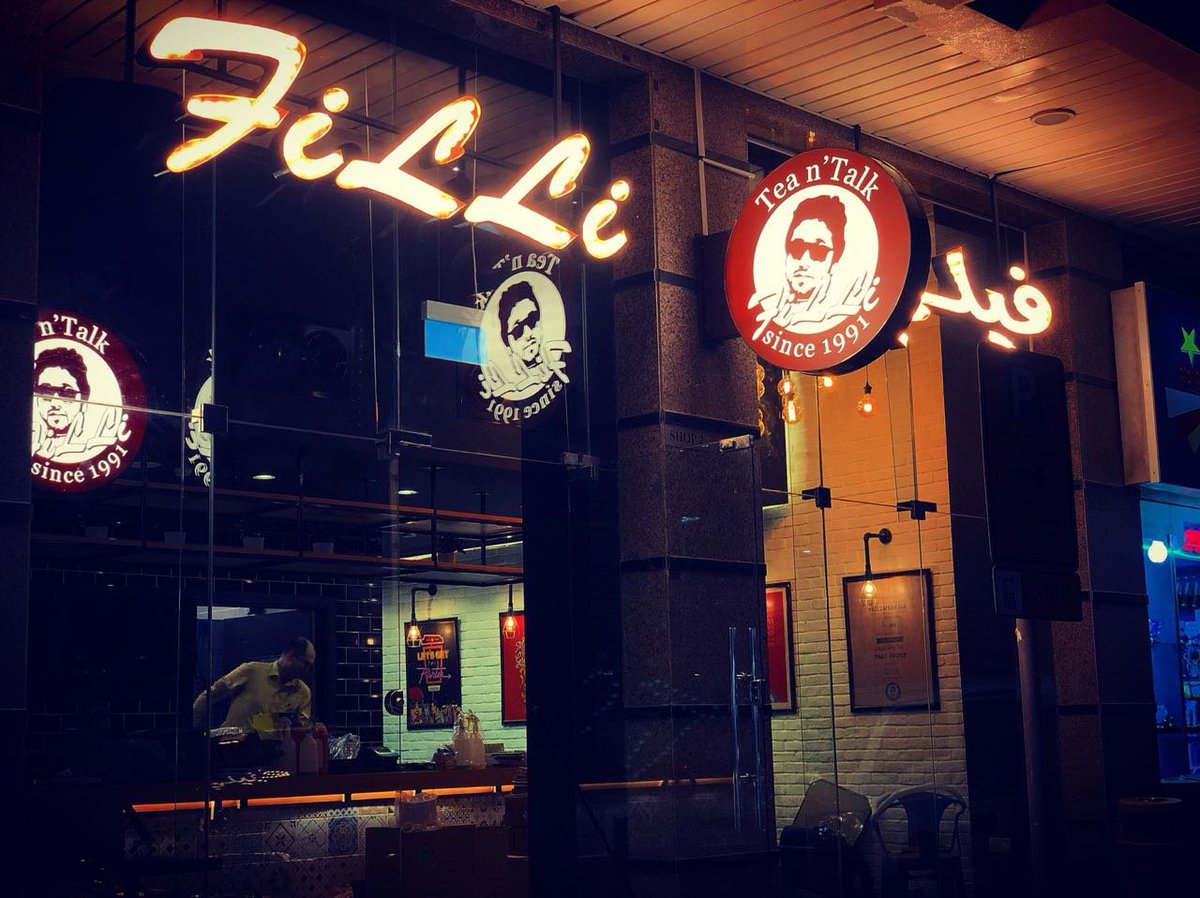 Abdul Rafih, a businessman from Kerala who now resides in Dubai, likes to have fun. So much so that he adopted a nickname bestowed upon him by his pals and changed his name to Rafih FiLLi. Afterward, he continued. Later, in 1991, Rafih built the first FiLLi Cafe. As the business grew, he swiftly established a second branch. By 2011, the name FiLLi cafe was well-known among the entire population of Dubai. Mr. Filli aims to disseminate this flavour throughout the world after it gained popularity among UAE tea lovers.
Mr. FiLLi's own dedication to providing the general people with a specialty they would adore led to the creation of the enduring FiLLi Zafran Tea, which has been a resounding success. Their success has been largely attributed to the menu and the staff's unwavering commitment to offering the greatest items in all FiLLi outlets. Working closely with all of its suppliers to ensure uniform flavour and freshness, FiLLi Cafe sets a high value on quality and ensures that there are no compromises. The assortment is completed by FiLLi's exclusive premium tea mix, which upholds the high calibre of the products provided. FiLLi products don't include any artificial colours or preservatives.
FiLLi Cafe expanded outside of the United Arab Emirates with the intention of becoming the largest and most admired tea brand in the world and bringing people together through their shared love of tea. It has already expanded geographically, with outlets in Malaysia, Singapore, Hong Kong, Bahrain, Oman, Kuwait, the United States, Canada, Pakistan, India, and many more countries. Rafih FiLLi has indicated that he wants to see FiLLi become the Starbucks of tea, thus the growth exponent is very high.