Teavaro- Delhi's Most Innovative Tea Franchise
Tea franchises are now gaining prominence in the Indian market for all the right reasons. Indians love tea, and it's time to revamp and diversify the drink recipes and how we serve them. Innovation is the driving parameter when modernizing recipes, and Teavaro is centered precisely around that. Although Teavaro isn't the only tea franchise in India, its primary selling point is that it offers the perfect blend of high-quality aesthetics with fresh recipes using exotic ingredients. Here, we'll explore the franchise economics of Teavaro and look at its eccentricities as a premium modern teahouse brand.
Teavaro franchise basics 
Teavaro has ambitious plans to provide its customers with the most exclusive and exciting products. Here's a list of specifications one needs to know before getting a Teavaro franchise.
Each franchise requires an area of 350-1000 square feet, and currently, the focus is primarily on the Delhi NCR region. For this region, the franchisor offers a Franchisee-Owned-Company-Operated (FOCO) model franchise option, thus eliminating the hassle of directly being involved in the restaurant operations.

You'll need an investment of INR 25-60 lacs to run an outlet.

With the 8% royalty fees, this franchise won't be cutting a hole in your pocket, and you'd be able to grow well with their constant support. 

In the subsequent years, Teavaro will be rolling out its stores in tier-2 cities and aims to open a total of 100 stores in the next 3 years.  
4 things that prove Teavaro is not a regular
tea franchise
Many franchises come and go, but the ones that stay are the ones that can stand out from the rest. Teavaro is a modern teahouse built on the QSR model and has been very strategic and precise in what it offers. They aim to market multi-flavored teas customized to the current customer preferences and introduce the concept of tea art and tea baristas to the Indian youth. Here are some things that are helping Teavaro shine.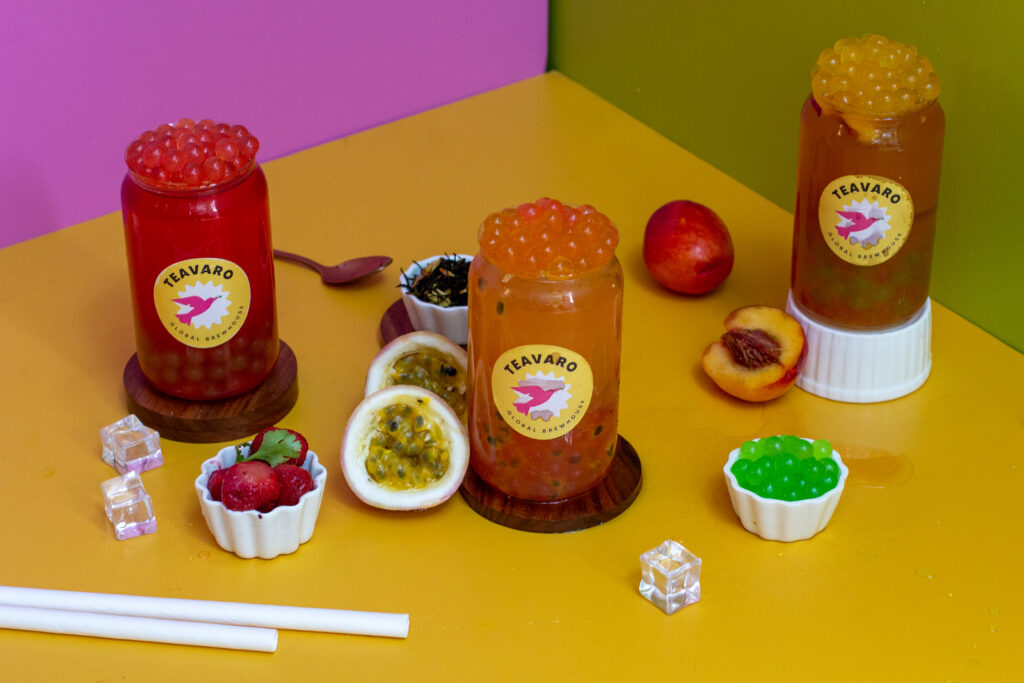 Variety of modernistic teas
The internet exploded with boba tea, masala chai, and creamy coffee videos not too long ago. This event called for more menu options than just lattes, espressos, and two kinds of tea options at tea junctions and cafes. Variety is always tricky to include in a menu. That's because the more items a menu has, the more indecision there can be on the customer's side. Also, it gets challenging to manage so many items every day. But Teavaro offers a range of options at relatively affordable prices without much hassle. 
Among the options, the main highlights are the fresh and exciting ingredients that allow customers to experiment with new flavors and tastes. Their selling point is that creative menu items offer a significantly better product in terms of looks, ingredient quality, and sophistication. The customers are primarily millennials and gen-z because of the 'fresh, unique, and Instagram-able angle associated with their products. 
Accommodating all types of customer preferences
A coffee or tea spot is a great place to chill and hang out with friends. So, including people's diverse requirements is critical in cafe-type settings. No one should get left out in a social location because of the lack of menu options. A menu without some extra items won't ensure healthy rates of customer returns. So, Teavaro offers Vanilla milk with cookies for those who don't enjoy caffeinated beverages or dislike the taste of tea and coffee.
But what if someone doesn't like or can't eat anything sweet at all? Teavaro answered this question by introducing savory options like sourdough sandwiches. Adapting to the needs of all potential customers is good if it doesn't cost much to the business. Other franchises also use this tactic to leverage maximum customer participation and promote an inclusive brand image.
Cozy and highly aesthetic ambiance
Nowadays, good food and service are only some of the factors customers judge a place for. How instagrammable a business carries just as much weight, if not more. So, having an aesthetic ambiance becomes significant in such cases. Teavaro generally aims for cozy and comfortable vibes with its ambiance. Aesthetic drinks against beautiful backgrounds make for great Instagram pictures. So, Teavaro amassed many likes and did well on social media. The ambiance draws people in, and the food and drinks keep them returning. Teavaro's goals for sound aestheticism are evident in the colorful beverages they offer.
Promising and delivering an enjoyable experience
The one thing that can level up the cool quotient of a place is the overall experience they serve. Teavaro includes several interactive ways to market itself as a tea franchise and strengthen the brand simultaneously. Since they target the demographic of 15-30, increasing customer interaction is what has worked fantastically for their brand. They've worked on introducing some concepts, like tea baristas. The customers see the live tea prep of their order by a professional tea barista. 
They also offer free samples of assorted tea varieties to create good customer interaction. Besides, they've made sure their customers enjoy being there by adding boba prop walls for photography and making the place suitable for clicking Instagram-worthy selfies. Their tea-presso technology ensures maximum extraction from the tea bag, which also works in their favor.
Read More: The best choices for opening a franchise in Ahmedabad.
The road ahead for Teavaro
The future of Teavaro seems bright because of its well-laid-out plans for expansion. Interesting flavored drinks in bright colors, cozy and welcoming ambiance, and stunning cafe aesthetics are all very positive for Teavaro's brand image. Since it started in Delhi, it will have multiple outlets there before moving to any other city. The standards set by cafes are getting higher each day, and Teavaro will have to keep coming up with new and great ideas to keep up its pace. This tea franchise will witness its expansion in the upcoming years, and the roots of its future success lie in the smooth management of all its business operations.