Get The Better Of Your Fears: Start A Franchise
When you consider starting your own business, feeling anxious, unsure, and lacking confidence is expected. The added pressure of wanting to prosper not only for yourself but also for your family, friends, coworkers, and investors makes it a frightening proposition. However, it may be gratifying if you have the guts to get into business ownership. It's crucial to overcome your anxieties so you may continue on your route to franchise ownership, even if you may be concerned about danger. 
Nobody should be discouraged from seeking a different line of work because they are worried about losing employment. The franchising industry offers several options for people to start their businesses. The layoffs have provided the franchisors with a gold mine of potential franchisees with managerial expertise. One may pursue their entrepreneurial dreams with a franchise without worrying about significant financial loss. 
How can you overcome your fear?
Start by calling it what it is: illogical, unfounded, worst-case thinking. Pay attention to the truth. Avoid limiting your life by thinking about improbable events. Finally, when you learn more about purchasing a franchise, you'll realize that franchising systematically lowers your risk of failure. You can get tested, repeatable business concepts from top franchise brands. You give yourself a chance to replicate the results if you adhere to the systems and procedures. 
Being in business for yourself but not by yourself is the fundamental advantage of franchising. It implies that the franchise system—the franchisor, other franchisees, and suppliers—will offer continuing direction and assistance. Finding that assistance is a franchise owner's responsibility. Franchisees who are most inquisitive tend to be the best. You may replace concerns with facts during the investigation by developing appropriate inquiries. Asking questions after you join a franchise can help you comprehend the model and operations so that you can perform at a high level. These are three recurring concerns that you may have and how to calm them. 
Personal failure anxiety
You support a franchise with a good reputation when you invest in a franchise. When it comes to being established in your field, you have both the brain and the muscle.
Use the resources that come with franchise ownership to ease this anxiety. Franchise ownership differs from starting a new business in that you have a great trainer working with you to assist you in avoiding failure. Failure is possible, but with diligence and teamwork, the danger is less than in other endeavors.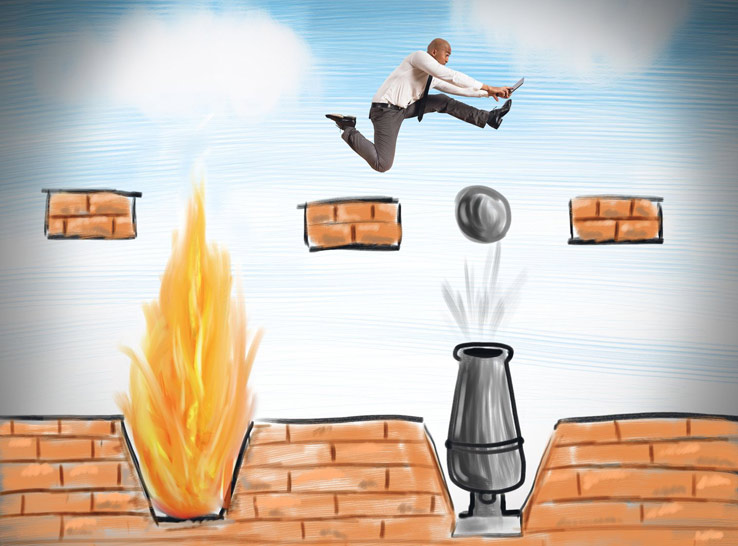 Also Read: Startups are More Riskier than Franchise businesses
The anxiety of experiencing "Red"
Investment is needed up front to launch a franchise. You have expenditures like paying rent and other costs, paying the franchisor, and even investing cash. Due to their concern over going so far into debt, this hefty upfront cost hinders many people on their journey to business ownership.
Make your financial plan before purchasing to ease this concern. Make decisions on how much personal funds you will invest, the anticipated costs, and the expected earnings once the business is up and running. To figure out how your finances will be, consult with other franchise owners and your bank. You'll be able to alleviate these anxieties more readily the more clarity you have.
Unwillingness to disappoint one's family
This franchise isn't being purchased only by you. So is your family. It makes logical sense that you don't want to let them down because they are a part of the franchise, even if they never lend a hand in its management.
Inform them honestly of what to expect to ease their fears. Will you spend a lot of time away (particularly during the early months of the business)? Convoke them. In which areas would you want their assistance? It will be simpler for both of you to accept the new adjustments if you start talking more freely about what life will be like once you own the business. This way, you won't feel as if you're disappointing them.
Also Read: Startups are More Riskier than Franchise businesses
Get rid of your fear and start a
franchise
.
In recent years, a life of uncertainty and anxiety has become the norm. Owning a franchise is a safe choice since it is a tested company strategy, lowering financial risk in the balancing act of entrepreneurship. These are some of the fantastic benefits of franchising.
Many realize that life is more than their mundane 9 to 5 occupations. A company investment and career makeover option is franchising.
The recession has caused many individuals to worry about losing their employment. The stability of a person's finances may be in jeopardy if they lose their career. Investigating a franchise is an excellent alternative if you're concerned about losing your job. You will have a source of income and be the owner of your own company, free from the fear of getting fired due to the economic downturn.
Even after the epidemic, franchise firms have undergone extensive testing and have shown to be significantly stronger. Despite the epidemic, several firms adjusted their operational and marketing approaches and saw commercial growth. 
Takeaway 
As previously said, it is entirely reasonable to feel some dismay. You could prevent yourself from realizing your full potential if you dread disappointment. To operate a successful business, franchisees must advance methods of controlling stress as best they can. Following these five guidelines, you may overcome this nervousness and manage your business with new elegance. The whole point of franchising is to get individuals to enter the industry.