The Founder: The Waffle Co.
The Founder: The Waffle Co.
It's not wrong to have a sweet taste, and there are plenty of alternatives available thanks to the f&b industry's boom. The ideal approach to satisfy that need is sweet with a hint of crunch! Although they are not originally from India, waffles have recently become one of our all-time favourites. The Waffle Co. is the only name you need to know when it comes to mouthwatering waffles. After successfully opening 15 locations around Delhi-NCR, the brand is poised to successfully take over all of India. Let's talk one-on-one with the founders to learn more about the delectable realm of The Waffle Co.
What was Mr. Amar Singh's journey like, and how did he build a network of Waffle restaurants?
Well, I suppose I was lucky to strike it rich at the beginning of my "Waffle" voyage. A while back, the sector experienced a huge surge due to Delhi's unexpected craze for waffles. Every two weeks, a brand-new waffle shop would appear in every community. In front of me, I could see a sea of opportunities. The vast experience I gained at Giani's was a fantastic motivator for me to go in even farther. We quickly moved on to the third store that appeared in GK-2, New Delhi, and BANG! Since then, the road has climbed, and there's no turning back. We received a much-needed lift from the affection and trust we earned as a result of our excellence.
What are the requirements for success in the F&B sector?
Playing small, in my opinion, is never enjoyable, and I want to grow PAN INDIA precisely because I am so convinced of what The Waffle Co. has to give. Since the beginning, our primary goal has been to establish ourselves as a leading dessert company with a broad and diverse menu that includes waffles, pancakes, thick shakes, and a variety of fries to satisfy salty tastes. Our stores are created with a modern theme in mind, include seats for 10–12 people at once, great sanitation, and ambient lighting to create the ideal ambiance. We pledge to deliver the same flavour and quality with a very welcoming brand experience with every product.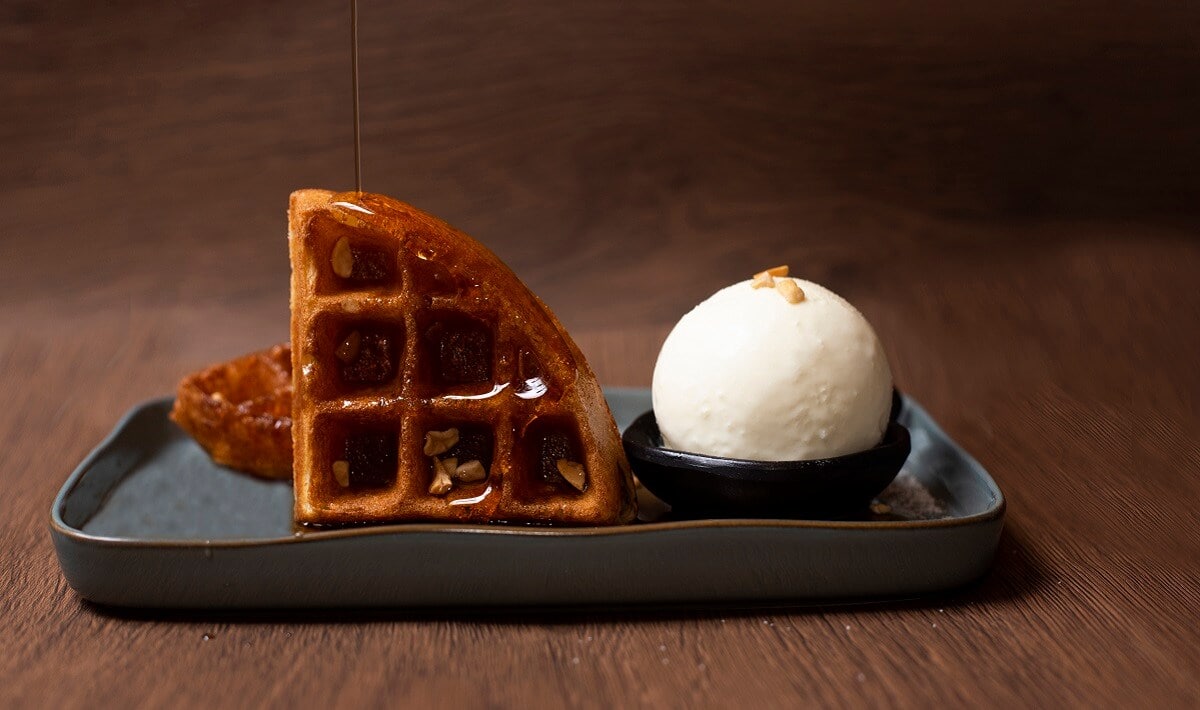 How to choose a venue and a format with consideration for the intended audience?
When choosing a location that will accommodate expansion, we often focus on regions with strong traffic volumes, those that are adjacent to certain institutions and schools, marketplaces, and workplaces. This specifically outlines the age range that we are interested in. This appeals to a wide range of people who want to unwind with colleagues or catch up during the lunch hour at work. Visibility is a highly specific requirement that has a big impact on brand value and consumer inflow. In order to assure sustainability, we want to introduce and acquaint the brand to the general public through low-cost methods.
How many stores do you now run?
We presently have 15 shops open, distributed throughout 5 cities. However, as of right present, the most of our outlets are in Delhi/NCR. We are open to potential franchisors as we soon hope to expand over all of India.
How has your experience been with franchising?
The trip has been rather exciting thus far. We have entered various areas of northern India, specifically Hyderabad in the south. However, Delhi NCR has the largest outlets overall. We currently have 15 locations, which is evidence of our popularity and success. In a very short amount of time, we have built out a place in people's hearts, which is an enjoyable sensation. Only once a brand's potential has been evaluated does an inquiry turn into a franchisee, thus it is crucial, in my opinion, to take this path along with your franchise business partner since, in the end, all the work is being done for your brand. We are content with our partners since they share our desire to popularise the brand while preserving its distinctiveness.
Which territories and locations are included in your franchise growth strategy?
In terms of sweets, The Waffle Co. is currently among the most adored and desired brands. You will definitely want more because of the delectable array of waffles, shakes, and pancakes. By the conclusion of 2020 PAN INDIA, we want to expand the The Waffle Co. family even further and have about 50 locations. This is a really ambitious ambition, but thanks to our diligence, distinctive taste, and high calibre, it will soon become a reality. Â Additionally, we will soon be adding additional intriguing items to the menu to ensure that consumers will never have enough of us.
How should a franchisee and franchisor interact?
Being a franchisor is not a simple job; it entails keeping track of performance, maintaining brand consistency, developing employees, and successfully managing the franchisee system. It is an interdependent symbiotic interaction. Our team members keep an eye on these items, solve their issues, and do routine audits to maintain control. The goal is to make sure everything runs well to improve work.
You have grown quickly. How do you keep the quality and consistency of the meals the same at all of your locations?
As was already noted, we have always placed a priority on the taste and quality of our main ingredients. We want to grow even more without sacrificing our promise to provide delicious treats in the shape of waffles, shakes, pancakes, and other items. Expanding is much simpler said than done, but taking risks is necessary to survive, and nothing is better than having the backing of your consumers. Â We run our business like a master kitchen. We discovered the secret formula right here in our own kitchen. Every store receives the premix on time, and our trained team then takes over. This guarantees consistent flavour and quality each time you order your preferred shake or treat at any location.
Furthermore, from the white chocolate to the brownies to the batter, every component used to make the dessert of your choosing is purchased in-house! The diversity is also limitless! Our first priority is keeping the food safety standards and uniformity throughout all locations, and we have a team of dedicated assigned to conduct routine audits and keep track of each store's performance in order to achieve the crucial balance.