Why Starting A Franchise In Delhi Gives It The Best Thriving Opportunity
A nation's capital always has the edge over tier-2 and tier-3 cities. However, talking in the Indian context, Delhi offers a lot more than just serving as the national capital. Its robust infrastructure, well-developed supply chains, and diversity and volume of the population easily make it one of the best places to start a franchise in India. A franchise in Delhi gets a more significant shot at success than anywhere else in India. The reasons for this are vast and interesting. We'll explore some of these here. 
Breaking down Delhi's flourishing franchise space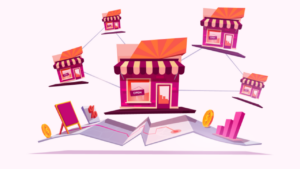 Delhi's franchise sector is booming more now than ever. Because of innovative and unprecedented concepts, Delhites are always ready to embrace new and emerging franchise businesses. India is the world's second-largest franchise market, and a big chunk of that is attributable to Delhi. But how did Delhi get here? The reasons for the rapid growth of a franchise in Delhi are a blend of several factors. Here's a list of these.
Infrastructural and transport developments
Every sector needs proper manufacturing facilities or sourcing channels, whether it's logistics, hospitality, or smart wearables. Not all franchises based in Delhi manufacture there. However, the well-designed connection routes to and from the city become very useful for those businesses that offer deliveries. Delhi lies in the heart of the nation, so any business starting here is likely to avail some of the best infrastructural and transport facilities in the country. 
Not just with deliveries, but good development levels of the basic things also help in smooth operation. For example, an industry may need a lot of heavy power-usage machinery for its manufacturing or general operations. So, cities where these requirements are readily fulfilled, will attract new entrepreneurs to open a franchise in Delhi.
Government policies
Recent government policies and efforts have led to a greater number of entrepreneurs in Delhi. These efforts are in the direct sense and have fructified due to a higher general public awareness and the growth of business ecosystems. However, some other outcomes are due to the more indirect steps. Round-the-clock electricity is one such example. Automobile and hospitality continue to dominate the franchise sector in Delhi. Both these sectors' progress gets pushed back due to a lack of proper power facilities. But in Delhi, the power sector and units are well maintained, and the focus on clean energy is opening up new avenues for sustainable development. Additionally, unnecessary regulations and compliances are now either non-existent or heavily amended. All these efforts can supplement the growth of a franchise in Delhi.
Larger consumer base
Delhi has the third-highest per capita income in the country. So, the consumer base for all sorts of product ranges is broader than in other parts of the country. This points to the fact that a franchise in Delhi simply has more people to offer their services to. Delhi's economy has also stayed profitable in the last couple of years. This also helped build a larger consumer base, especially for the logistics and hospitality sectors. 
Over the previous years, many premium franchises have also seen growth in Delhi. This occurrence again confirms that the per capita income level has major correlations with the consumability of the population. 
Access to resources
Running a successful business involves getting the combination of many factors right. One of the first things is the raw materials required for product making. Supply chains will only be helpful if the actual resource needed is abundant. One of Delhi's biggest benefits is direct access to many resources at affordable rates. Sourcing materials or product parts is a lot easier because it is the national capital. It's also easy to import international ingredients or materials due to lower shipping costs than elsewhere in the country. 
Availability of skilled workforce
Many franchises require the owners to hire staff and train them properly before assigning them any primary operational responsibilities. Delhi offers a good selection of skilled workforce with appropriate education levels. Having a highly functional workforce can skyrocket productivity and hence profits of franchises. Delhi also has some of the most innovative business minds in the country who bring a lot on board once hired. Due to this, the ease of operating a franchise in Delhi is much higher now than previously. 
The social media factor and new-age businesses
The growing prominence of social media and virality as vital parameters for businesses isn't exclusive to Delhi. Trends are taking over everywhere, and the instagrammability of your franchise is a crucial factor. This factor, of course, doesn't apply to all categories. The food and beverages sector owners now value the aesthetics of their space much more. Some cafes have gone viral for their innovative menu items, and some others for their eye-catching ambiance. 
New-age businesses that solve a modern problem or propose an entirely new and intriguing concept are often a hit with Delhiites. Breaking the monotony is what's working, and Delhi is way ahead in this game than the rest of the country. All these factors are giving this city an edge over the others. Some of these factors also exist in other cities. However, this unique blend of favorable elements is only available in Delhi. Hence, the success of a franchise in Delhi is due to all points of progress that the city has made.
Also read: Food Franchise India- Catching Up On The Industry Shifts And New Trends
Conclusion
Starting a franchise in Delhi isn't the only option, but it's a great one because of all it comes with. So, if you're a beginner who wants their best shot at operating a franchise, Delhi is the place for you. This doesn't imply that this city is complete and without flaws. However, what it has to offer easily beats what it lacks. Delhi is a great launch pad for a diverse range of businesses. But one has to remember that ultimately, for a brand, business strategy and proper step-by-step execution are top priorities. Getting them right will set up a clean and smooth road ahead for franchise owners.