Indus Flavour – Delhi's 'Proudly Vegetarian' North Indian Restaurant
In India, dining out is a 'once in a while' experience; hence, it's a time for families to go to someplace that serves them right. While it's not impossible to find a modern Indian diner, a few can offer the right blend of tradition with modernistic twists. Comfort food need not be boring, and that's what Indus Flavour shows through its unique aesthetics and cosy ambience. First started in 2011, this Delhi bistro continues to serve delicious dishes of North Indian cuisine and aspires to carry its legacy into the upcoming decades.
India's food franchise sector
The food franchise sector is well-explored in the sense that many new entrepreneurs try their hands at it. However, only a few can scale. But why's that? It's primarily because of inconsistent pricing, bland menus, sidelining aesthetics, and the lack of a differentiating factor. So, it's certainly interesting to see a brand like Indus Flavour stand firm for over a decade in this industry. Plus, it seems like it will grow further in the upcoming years. Let's understand the key brand tactics that helped it reach this far.
Features Of
Indus Flavour
As A Brand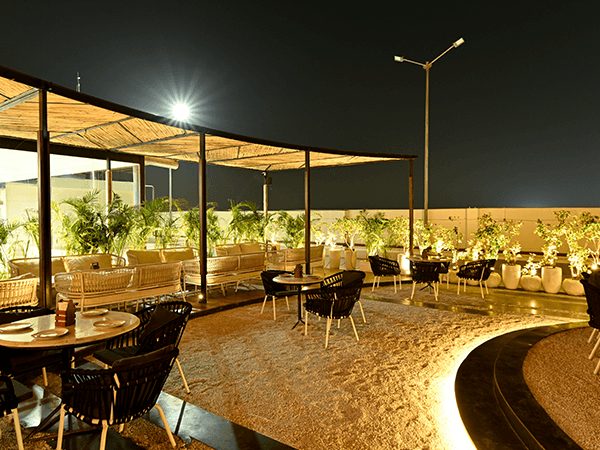 The reason Indus Flavour has been thriving for over a decade is its well-designed brand features that accommodate Indian preferences amazingly. Here are some of these:
Interesting fusion dishes
The Indian palate is highly mature and has a lot of layers of complexity. So, fusion dishes are always a crowd favourite because they blend two or more cohesive flavours to create something unique. This also gives the chefs room for creative experimentation, a great business practice. Having fusion dishes on your menu will also allow you to offer specials and new items with ease. 
However, it's not easy to develop great fusion dishes. One needs proper knowledge of cooking techniques and flavours to get it right. Luckily, Indus Flavour always has something exciting to offer and has successfully carved its niche in the food franchise sector. Incorporating fusion dishes can also invite customers who look for edginess in menu items. So, overall it's a simple but effective move for a food franchise.
The Choice To Make A Vegetarian Food Brand
Since India is home to the world's largest vegetarian population, making a brand 100% vegetarian makes perfect sense. This gives the brand an excellent differentiating factor and lessens the extreme variety in menu items that other restaurants often have. This makes operating easier for employees as well. Focusing on a particular category allows entrepreneurs to give more attention to each item and simplifies the menu. In the specialty vegetarian diner category, there wasn't much innovation. But Indus Flavour changed it, showing that niching down and enhancing product quality can be a successful business tactic.
Incorporating 2 subsidiary brands
The founders chose to create 3 brands under Indus Flavour, focusing on dining, delivery, and catering. Their delivery brand is quite a success, delivering over 150 orders a day. The catering demand for north Indian cuisine in Delhi is huge, so this move was a step in the right direction. It's really easy to get confused in the operations of 3 categories and mess up big time. But this brand has not only managed to operate all 3 but has also accumulated significant profits. 
Mid-range prices 
This is one of the main features of all food brands that are a hit among Indian audiences. Mid-range prices broaden the customer base because they cater to college-goers who want a quick snack and also high-income folks. Inclusive pricing with a good mix of affordable and premium options is the right thing to have. Millennials and gen-z audiences are particularly responsive to mid-range pricing. Hence this gives a franchise the largest shot at success in the food and beverages sector. 
Trifecta of edgy, experimental, and casual vibes
Casual is the new cool in aestheticism in today's age. Hence, businesses across all categories pay more attention to their decor and opt for a minimal yet edgy interior design. The goal is to give people a comfortable place to unwind after a long day at college or work. This place is called Delhi's 'fun bistro' because it hits the trifecta of quirkiness, experimentation, and casualness.
While a sense of comfort needs to be present for all kinds of customers, some dynamism in the design of the menu and presentation must be exhibited. The way Indus Flavour does this is by being aware of varied customer preferences and trying to accommodate as many as possible in every aspect.
A Peek Into The Brand Value Of
Indus Flavour
The glorious outlet of Indus Flavour in Hudson Lane currently does around Rs. 50 lakhs in monthly sales, and the brand's growing at a 20% rate. The 3 branches in Delhi are pretty profitable, and there are plans to open 3 dining outlets annually. The future plans include opening more franchise units with the company-operated model and keeping the original dining and delivery concept. 
The brand boasts a loyal fanbase on its Instagram and Facebook, where interesting food content is posted regularly to keep viewers hooked. The brand is quite ambitious, as reflected in its phase-by-phase expansion plan for Delhi NCR, PAN India, and, ultimately, across the globe.
Also read: 5 Franchise Business Ideas That Could Pick Up Pace This Decade
Final Words
Due to the high saturation, India's 'food and beverages' sector is profitable yet challenging to break into. In such a market, having a distinguishing factor helps in removing ambiguity and strengthens brand value. Indus Flavour has been doing a great job of sticking to its core values and providing some new and exciting concept inclusions in its menu and decor. The expansion plans are solid and, if executed properly, could take the brand value even higher than its present status.